When will the Wellington real estate market slow down?
Every month at relatable, we analyse the stats and take a deep-dive look at the Wellington real estate market.
Please note: Figures below are generated from REINZ stats up to 31st May 2018 and 'Wellington City' covers Tawa to Seatoun and everything in between…
---
It turns out April was no fluke…
The median sale price for non-apartment properties (houses, townhouses and units) stayed consistent in May, coming in at $765k, equalling last month's record high.
We continue to be impressed by the amount of buyer energy in the market right now. Since our last update, we saw 6 Tenders on a 4 bedroom home in Newlands, sold a Woodridge property in 5 days with multiple offers and had 48 groups through a single open home for a 2 bedroom, cross-lease townhouse in Crofton Downs. Busy times indeed.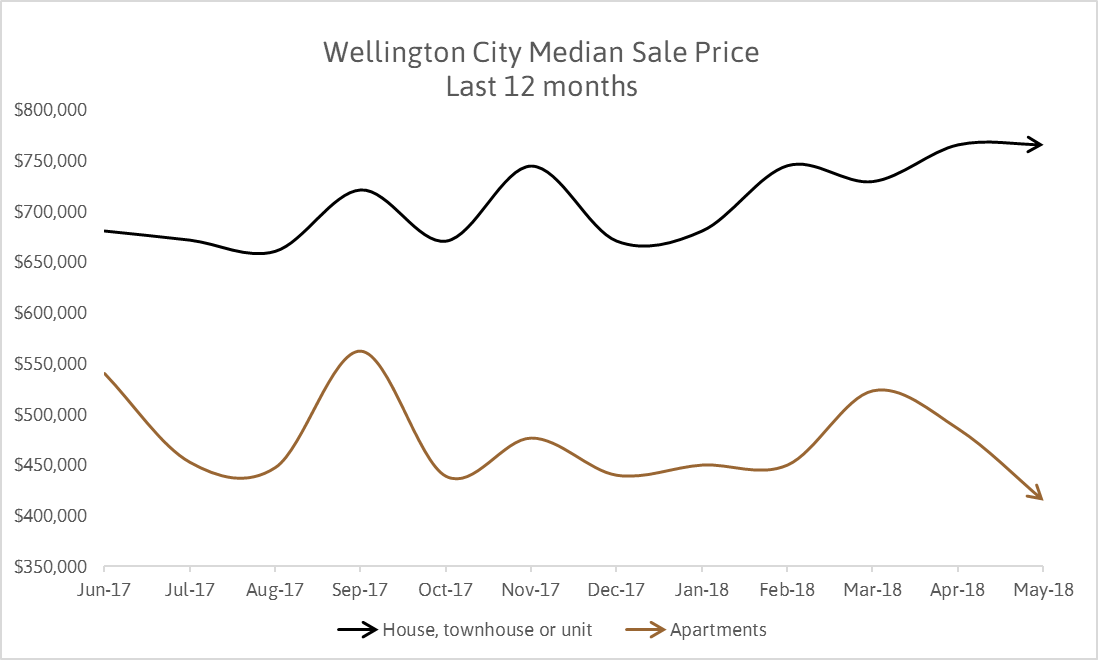 Meanwhile, the median sale price for apartment properties plummeted to $415k (down from $485,000 in April), the lowest level recorded since August 2016 ($382,800). Before we jump to conclusions though, it's important to wait and see what happens next month. The small sample size (54 total apartment sales) and the high number of small investment units being sold, particularly 1 bedroom and studio properties, could be creating a 1 off blip. Let's see if a trend emerges as we get deeper into Winter.
How many sales went through in May?
There were 284 sales in May (54 of those were apartments). This is down slightly from the 290 sales we saw in April and also down on April 2017 which produced 302 sales.
Affordability-watch
Of the 230 sales that weren't apartments (or sections), only 18 of them sold under $500k (the current welcome home loan limit for Wellington).
This stat highlights how hard it is to find an affordable home in Wellington right now. It also highlights how out of date those welcome home loan limits have become. Buyers operating with $500k or less are now forced to look further North, to areas like Ascot Park and Titahi Bay to secure their first home.
How accurate are Wellington Rateable Values?
Creeping up again this month. The median % above RV for houses, townhouses and units went up 1 point to 46% (equal highest ever). Meanwhile, apartments jumped up 2 points to +41% over RV. This is the first time that the median apartment sale has been more than 40% over RV.
Graph note: We see more fluctuation in the apartment market due to the smaller sample size (56 sales in April).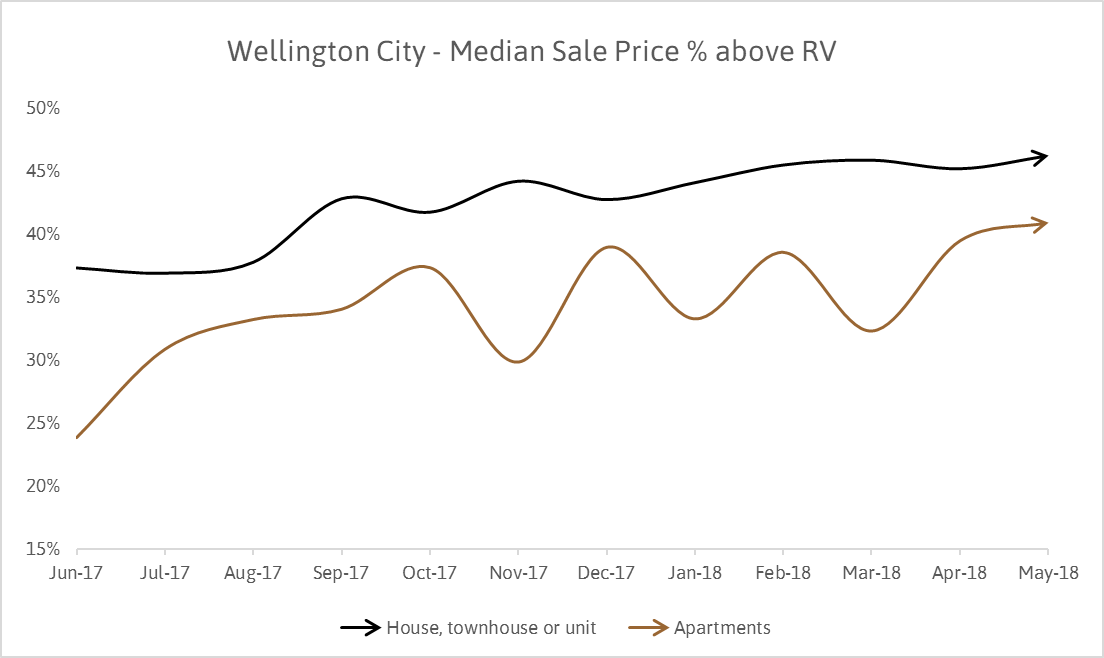 How long are properties taking to sell?
Median days to sell – Wellington City:
24 days for standalone homes, townhouses and units.
35 days for apartments.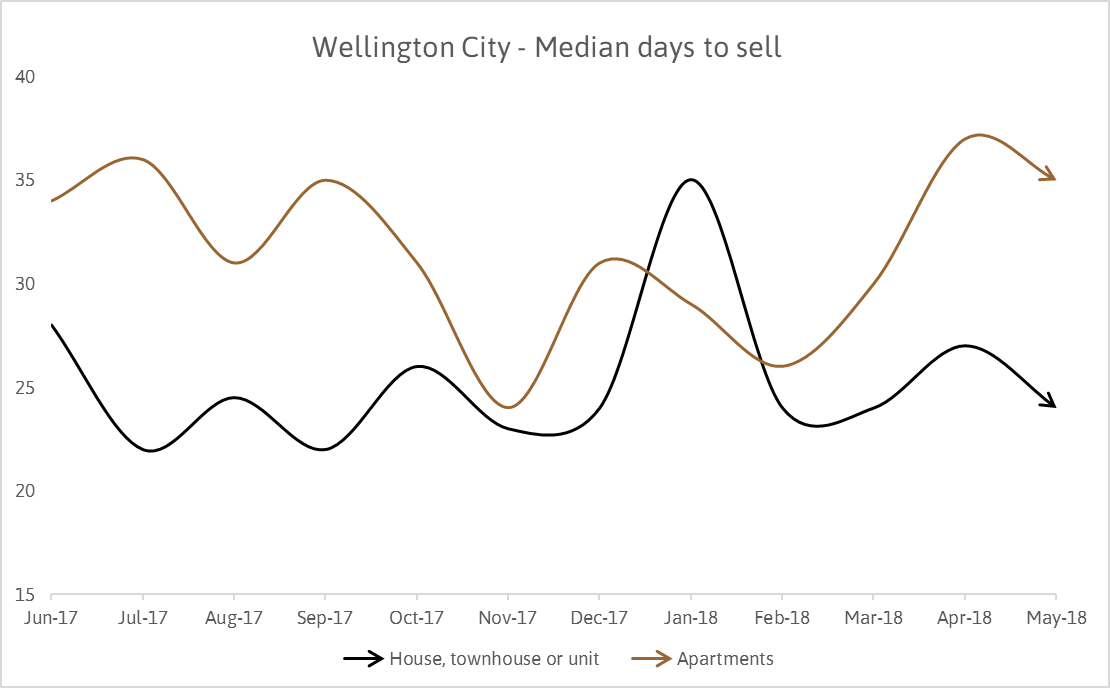 The only reason these numbers aren't even lower is the prevalence of deadline sales and Tenders being used to market properties in the Wellington area. These selling systems keep properties on the market for 3 weeks when they might otherwise sell faster. But as we have noted before, that extra time on the market can really benefit sellers.
How are those Tenders tracking?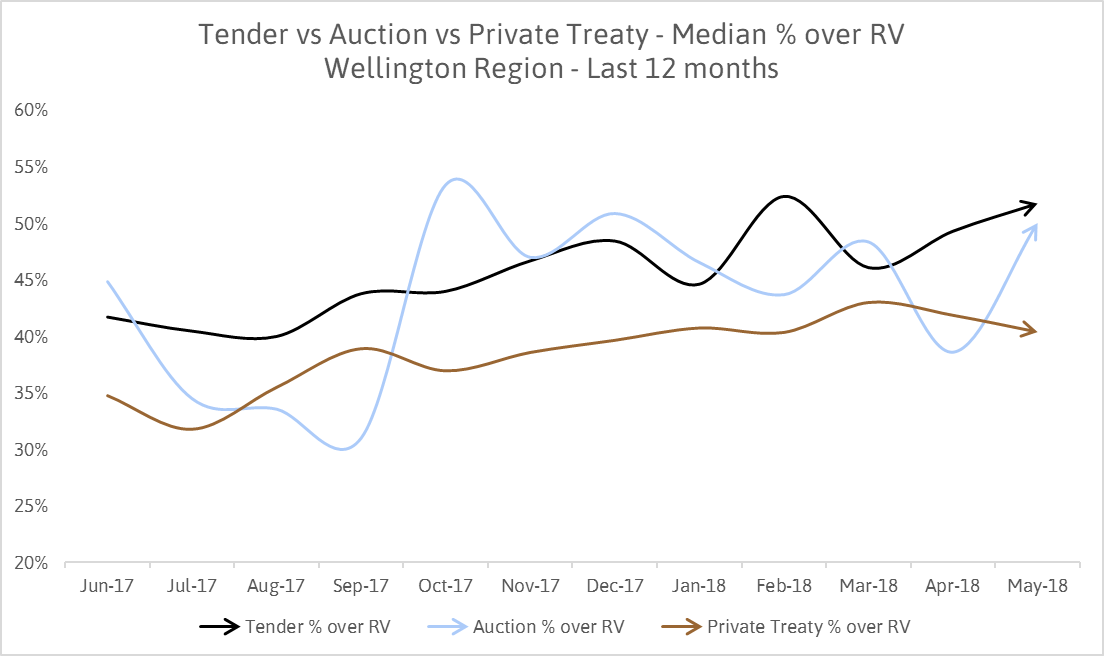 Tenders bounced back to 52% over RV, equaling the highest figure ever recorded and Auctions jumped back to 50% over RV. Both of these strategies are consistently achieving premiums over the other options available.
Note: The 3rd category 'private treaty' includes everything that wasn't sold via Auction or Tender, including properties marketed with a price, BEO, deadline sale, by negotiation etc. This category will include properties that were originally marketed as Tenders or Auctions but didn't sell by the initial deadline. The median for these sales was +40% above RV, down 1 point from March.
When will the market slow down?
Right now we can't see any sign of a slow down on the horizon. For any correction to occur we would need a major rise in interest rates, a massive change in funding availability, a biblical exodus from our Capital City, or a sizeable increase in supply.
With the shortage of developable land available – that 4th option simply isn't going to happen in Wellington any time soon. As for the rest? No one really knows when an international event might trigger a banking freakout, so as usual, it pays to make sound decisions when buying and ensure that you have strategies in place to handle things if interest rates were to rise 2 – 4% in future.
If I was a buyer, what would I do?
Stick to your guns and keep searching. Keep making offers and bear in mind you might have to miss out on a few houses before you are the lucky buyer that has your offer accepted.
If I was trying to find my first home in this market I would be looking in areas like Titahi Bay, Ascot Park, Ranui. Find something at a reasonably affordable level, with a bit of potential and get stuck in.
If I was a seller, what would I do?
If you own a home already, I would sell with a long settlement (3-4 months) so you can be a cash buyer in Spring, when there will likely be loads of properties coming on the market.
If your property gets a reasonable amount of sun and you have a heatpump (or better yet, a woodburner), then selling in Winter is definitely an option for you. Allow yourself enough lead time to snag a sunny day for photos and if you are selling a soon-to-be-vacant investment property, consider investing in staging to make your home as inviting as possible.
---
Read: Homeowners, don't sign until you've read the fine print.
Click here to subscribe to our newsletter and get notified of new articles as they become available.
Thanks for visiting!